What does building community power look like? In a meta-moment for Tufts' Urban and Environmental Policy and Planning (UEP) department, an October 30 colloquium gathered students and practitioners together to discuss how to engage and empower different groups.
The event, titled "Community Power in Policy and Planning," was organized by department faculty and the Masters in Public Policy (MPP) cohort. Members of the mid-career program worked to make the panel-slash-workshop a productive one by incorporating small-group discussions and an "actionable" networking activity.
Guest speakers set the tone for the night; Bob Terrell, Executive Director of the Fair Housing Center of Greater Boston and an MPP alumnus, and Khalida Smalls, Director of Organizing for the Boston Teachers Union, shared lessons from their extensive experience in community organizing. Dana Rebeiro, a City Councilor of New Bedford and an MPP student, moderated a free-ranging discussion that covered inspirations, challenges, and hopes for local coalitions.
Both Terrell and Smalls became involved in local causes at a young age. Terrell recounted participating in his first demonstration in 1964, part of a series of actions that led to a historic NAACP lawsuit which ended segregation in Boston schools. "I was spoiled" by the active political environment and high mobilization rate of the 1960s, Terrell said.
For Smalls, a longtime member of New England organization Alternatives for Community & Environment, Inc. (ACE), seeing high schoolers actively raise awareness of environmental issues in their community was a formative experience early on in her career. "It was amazing to me that such a small group of folks could do something so powerful," she said.
Both spoke of current challenges in their respective spheres of work. According to Terrell, the "number one issue, the number two issue, [and] the number three issue" is ongoing gentrification and displacement throughout Greater Boston. The situation "is the worst we've ever seen" in the city, Terrell added, due to an onslaught of "institutional investors backed by global flows of money."
The changing nature of the issue calls for new solutions, Terrell said. For that, grassroots groups need to move from a "precarious" position of advising local government to one of direct control. According to Terrell, a key step would be to "write residents in" to existing legislation and give them legal standing.
For Smalls, another important issue lies in creating the circumstances that foster decisive collective action in the first place. "There's cycles in organizing," she said, referring to ups and downs in community interest and rates of mobilization over time. In her current role with the Boston Teachers Union, for instance, "I have to do a lot of convincing" to show teachers how their actions can be impactful.
Under the current presidential administration, Smalls added, the work of "putting the hope back into people's realities" is essential. She spoke of tapping into latent power of community members who already understand local problems "and how to fix it."
Following the guest speaker panel, current MPP students Julia Beebe and Genie Polycarpe-Nortelus provided insights from their own experiences. Beebe, who brings together nonunionized employees in the service and care sectors in her role as lead organizer of Matahari Women Workers' Center, spoke of the challenges of "[connecting] with someone meaningfully." In her work Beebe has relied on interpretation expertise and tools, in addition to political education, in order to move past linguistic and cultural barriers.
Genie Nortelis, Deputy Director of the Civil Rights Office of Diversity and Inclusion for Massachusetts' Department of Developmental Services, shared her own thoughts on individual and collective power. "[It's about] engaging yourself and educating yourself about community," and then speaking up, she said. The personal question of "where do I start to make change" is a starting point for larger-scale action.
Together, the night's speakers brought up much food for thought in the small-group discussions that followed. As UEP professor and event organizer Penn Loh commented, "The UEP community is already full of people with a lot of experience with building and exercising community power. In addition to reading about community activism and watching videos about Dudley Street Neighborhood Initiative, we can learn from our own students and alumni about the power and challenges of organizing.
In closing, Khalida Smalls reminded attendees that "it's important to be positive." While "it's my anger that drives me," the concerns of creating change are "heavy and they weigh on us." She advocated self-care for change-makers, as well as regular self-reflection.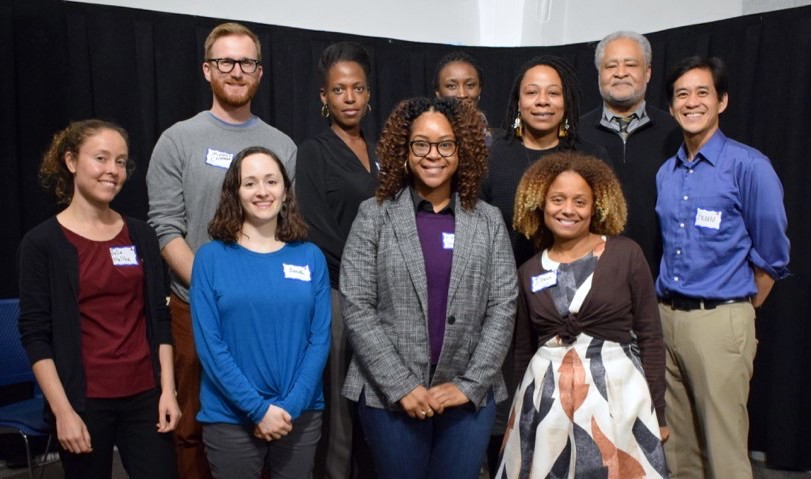 Terrell added that for organizers, "one of the most powerful things is to mentor others." "No one movement" has all the solutions, he said, "but collectively we can figure it out."