Former Executive Director, Alternatives for Community and Environment (ACE) | MPP Graduate, 2017
"I came to UEP because I wanted to learn new skills and also wanted the opportunity to examine and reflect on the work that I had been doing for the past decade. For a long time I have been interested in cities. I came to UEP to learn more about policy making, but also planning and design for creating more just cities.
"UEP has taught me new skills like research methods, policy analysis, and ways to effectively implement policy that have made me better equipped to work with low income communities and communities of color. UEP has helped me to pursue my interests in planning and community development by not only educating me about the framework and approaches of traditional planning, but also exposing the ways that those traditional methods leave out important concerns about equity and sustainability.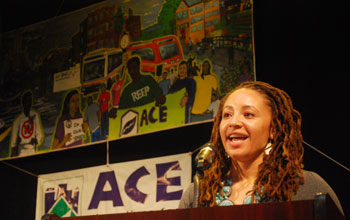 "I see myself turning vision into practice by helping to build a movement for social change. For me, this has meant working to create strong, community based non profit institutions where average, everyday people can find acceptance, hope, and become politicized. Too often, low income communities and communities are left out of decision making and are isolated in confronting the challenges of life. It is important for organizations to bring people together so that they can know that they are not suffering alone, but also to help people understand that the conditions that people are facing were created by a set of decisions and practices that can be changed if we work together.
"The best remedies and solutions that are necessary to improve the conditions in our communities come from those that are directly impacted. One of the efforts that we put forward at ACE was to grow food on vacant land in the neighborhood. The "Grow or Die" campaign as we called transformed blighted land into a safe community space and also helped to increase access to affordable produce for those that need it the most. That's one example of how, together, we can create the remedies and solutions that are necessary to improve the conditions in our communities."