In the Greater Boston area, the weather is warming up, flowers are in full bloom, and for safety reasons, most of us are spending much more time indoors than usual. If you're looking for a way to destress as well as pass the time, a group of Tufts UEP students recently compiled a cookbook made up of recipes submitted by students and faculty.
Below, we feature a few entries from the book–a soup, a main course, and a dessert. Mix and match with your favorite go-to dishes, or if you're feeling adventurous, cook a whole UEP-inspired meal.
---
Avgolemono Soup (aka Egg and Lemon Soup)
Sarah Clarren
This is a snapshot of recipe out of an old family cookbook that is older than me. The book itself is special for multiple reasons, but first and foremost, it belonged to my Papou (Greek for Grandfather). The book is chockablock full of mouthwatering dishes, but this one has a near and dear place to my heart. Not only is it one of the most loved (and spilled on) pages, having avgolemono soup is a tradition in the Clarren (Bachakes) household. Our family has it every holiday and some days just because. Feel free to nix the meat and/or make it with pre-made stock. It'll still warm you up! Just don't be alarmed if the eggs curdle the first (and second) time you make it…
---
Yakhni Pulao
Aqsa Butt
This dish is a staple in a Pakistani household and one of my husband's favorites! When we were undergraduates and I was living at home and him away from his family in the college dorms, I would bring him this home cooked meal and it would make his day. I have passed the recipe down to many and it has become a staple at our family gatherings.
Notes: If you're vegetarian, you can substitute the chicken stock for vegetable stock and substitute peas, chickpeas, or potatoes for chicken. If you don't like the bite of whole spices such as cardamoms and black pepper corns, you can crush them before adding them in or remove them through a sieve before adding the rice at the end. If you want to go an extra step, you can add cilantro and chopped cucumbers to yogurt and it on the side.
Serving Size
3-4
Ingredients
¼ cup of oil
1/2 tsp ginger paste
1/2 tsp garlic paste
1 medium onion, chopped
3 pounds of skinless chicken legs or thighs
2 cups of basmati rice
4 cups of chicken stock
Spices
1 tsp cumin seeds
pinch of mace
pinch of nutmeg
1/4 tsp of turmeric
1/4 tsp garam masala
1/2 tsp of coriander powder
1/2 tsp of salt
2-3 crushed green cardamoms
3-4 pepper corns
3-4 clove heads
2-3 bay leaves
Garnish
Coriander leaves, chopped
Method
Wash and soak rice in water for 20 minutes.
Heat oil and add ginger and garlic paste, cumin seeds, and onions until fragrant and translucent. Add and turn chicken till it's no longer pink.
Add mace, nutmeg, turmeric, garam masala, coriander powder, salt, crushed green cardamoms, pepper corns, cloves heads, and bay leaves to the chicken. Cook the spices with the chicken for 2-3 minutes.
Add 4 cups of chicken stock to the chicken and spice mix to create a "yakhni". Let the stock come to a boil. Add two cups of rice and wait for the stock to come to a boil again. Cover the pot and set flame to medium and let the rice cook in yakhni for 10 minutes.
Top with fresh cilantro and it's ready to serve!
---
Subjective Well-Being (SWB) Boosting Brownies
Jess Wilson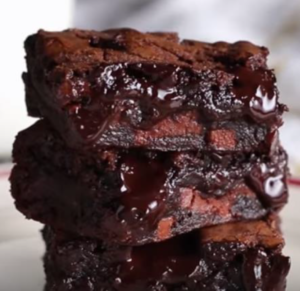 My sister baked these brownies for Christmas one year and they have since become a recurring Christmas staple in our house. These are the richest, most fudgy brownies I have ever eaten, and they are the perfect remedy during the harsh Maine winters. Make sure that the brownies are solidified before you take them out of the oven; the last time I made these I inadvertently made brownie lava-cakes, which were delicious, but not at all cooked through.
Ingredients (9 servings)
8 oz semi-sweet chocolate
12 tablespoons butter, melted
1 ¼ cups sugar
2 eggs
2 teaspoons vanilla extract
¾ cup all-purpose flour
¼ cup cocoa powder
1 teaspoon salt
Total Time: 45 minutes
Prep Time: 15 minutes
Cook Time: 30 minutes
Steps
Preheat the oven to 350°F (180°C). Line an 8-inch (20 cm) square baking dish with parchment paper.
Chop the chocolate into chunks. Melt half of the chocolate in the microwave in 20-second intervals, saving the other half for later.
In a large bowl, mix the butter and sugar with an electric hand mixer, then beat in the eggs and vanilla for 1-2 minutes, until the mixture becomes fluffy and light in color.
Whisk in the melted chocolate (make sure it's not too hot or else the eggs will cook), then sift in the flour, cocoa powder, and salt. Fold to incorporate the dry ingredients, being careful not to overmix as this will cause the brownies to be more cake-like in texture.
Fold in the chocolate chunks, then transfer the batter to the prepared baking dish.
Bake for 20-25 minutes, depending on how fudgy you like your brownies, then cool completely.
Enjoy!
Cover image: Marta Dzedyshko/Pexels, Sarah Clarren, Pinterest