By Elijah Mensah, UEP Graduate Student
For over 50 years, the annual Association of Collegiate Schools of Planning (ACSP) Annual Conference has provided a platform for individuals to highlight their work on emerging planning and sustainability issues. I was fortunate that the UEP Department was able to send me to Chicago last month to attend the conference and learn more about cutting-edge research in urban planning.
The conference curates specialized sessions to cater for various groups including member schools, students, job-seeking graduates, and ACSP interest groups such as planners of color, faculty women, global planning educators and inclusion- LGBTQI+ Allies. The conference also uses the time to recognize and honor distinguished faculty, spotlight the host location and offer opportunities to earn AICP CM credits to interested participants.
The recent ACSP Conference 2023 was held last month in Chicago, IL, congregating nearly 1200 attendees including about 700 faculty, more than 400 students, researchers, professional planners, sponsors and exhibitors from over 30 countries. The conference sessions included engaging roundtable discussions, research presentations, workshops, career information and an interactive exhibit hall as well as networking opportunities. As a newcomer, my purpose was to learn about urban planning from different perspectives, the emerging issues and potential solutions, network with industry players and explore career pathways.
With Professor Julian Agyeman and Dr. Orwa Switat, Tufts University
The conference comprised numerous activities including highlights of research and discussions in the field related to technology and analytics, land-use policy and governance, economic and community planning, environmental planning and resource management, transportation planning and infrastructure, gender and diversity in planning, Housing and urban design, planning history and theory, international development planning, food systems and community health, planning education and pedagogy, planning process administration, law and dispute resolution etc.
With Professor Ty Redden, University of Toronto
I would like to spotlight a few sessions from the conference and discuss my takeaways.
To begin with the keynote address by Dr. Antonia Darder on the theme "Planning for the End of the World (As We Know It): Rethinking Practice for a More Just and Loving World". The keynote challenged the unsustainable structures of our world rooted in patriarchy, colonization, and capitalism upheld by modernity principles. It critiques schooling practices that normalize social injustices and advocates for a decolonizing vision in planning education to emphasize justice and communal values for a just world. As a student, this was eye-opening and thought-provoking. I feel the traditional views of planning taught in schools would have to maximize reasoning for critical thinking in questioning societal norms and structures to actively seek solutions to community problems. I think recognizing injustices and holistically advocating for change through planning practices will lead to shaping a more equitable future grounded in communal values.
With Professor Larry Vale, MIT
Professor Hollander presented a paper on how blockchain can be used to transform civic engagement in urban planning. I was enlightened to learn of the adoption of blockchain to improve community participation, build transparency and enhance trust in the public process. The application of this technology in a real-world situation as described in Swampscott, MA reveals the potential for its use. I think this is an opportunity for stakeholders to experiment with it to offer insights into future planning practices and policies.
Professor Jiang participated in a roundtable discussion on the topic "Human Mobility Data: Possibilities and Pitfalls for Informing Policy". This panel showcased how modern data sources like cell phone locations can redefine our understanding of urban dynamics. It highlights the potential for more comprehensive and real-time insights into daily activities, social interactions, and responses to crises. It also raises critical concerns about privacy and bias that need addressing. The discussion offered a glimpse into the transformative power of data in shaping sustainable and just urban planning practices. As a student, this offers insights into the cutting-edge use of human mobility data and ethical concerns around privacy and biases.
Professor Shamsuddin presented a paper discussing the severe challenges of the rising cost of housing in the US and its impacts on household well-being, access to opportunities, and even contribution to broader societal issues like traffic congestion and climate change. One of the findings of the paper revealed demographic factors like race, ethnicity, gender, and education are not consistent predictors and suggest a broader impact on episodic burden and a more concentrated effect on persistent housing cost issues than previously thought. I believe the insights of this paper emphasize the need for diverse and targeted policy approaches to address housing affordability comprehensively and recognize its broad impact across society.
Professor Agyeman moderated a panel on the theme "Exploring Sacred Civics: Re-Imagining the Soul of Planning – A Provocation". The panel delved into the deeper questions of whether inclusion truly encompasses what societies truly need. It challenged the notion of mere inclusion and advocated for a broader pursuit of wholeness, healing, and regeneration. It raised questions about inclusion- Is it about integrating into existing structures or reimagining a more interconnected, resilient community? The discussion revolved around redefining the soul of planning, envisioning cities as spaces for wisdom, healing, and growth by weaving together Indigenous perspectives, relational urban studies, and decoloniality. This discussion inspires me to think and emphasize holistic, interconnected and inclusive approaches in my career as a planner.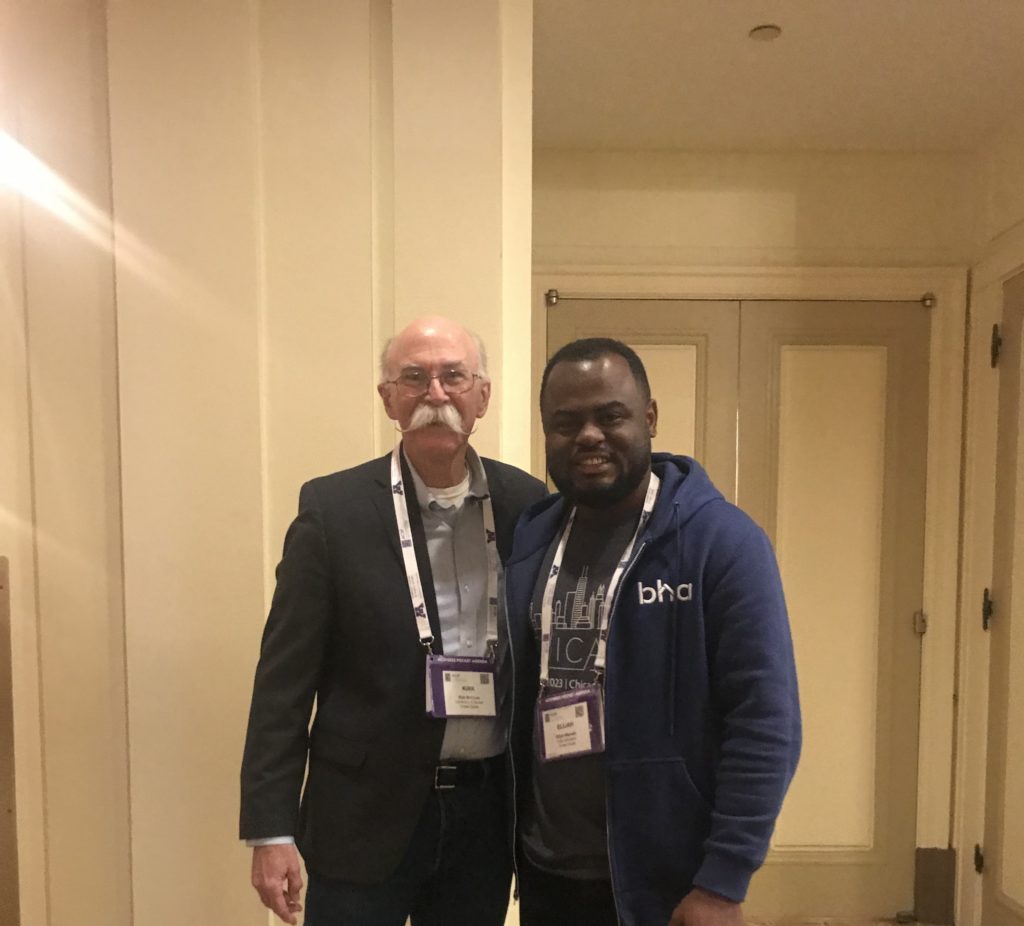 With Professor Kirk Mcclure, The University of Kansas
In sum, the ACSP Conference was informational and insightful and I am grateful to the UEP Department for helping me to attend. The various PhD workshops provided an enabling environment to learn about faculty and students' experiences, academic programs and career opportunities. I really liked how people were welcoming and willing to have informal conversations to learn more about each other. I liked the supportive atmosphere for young professionals and students looking to explore the field of urban planning.
I would entreat you to attend the ACSP Conference 2024 in Seattle. See you there!