The American Planning Association (APA) hosts annual the National Planning Conference (NPC). The conference serves as a hub to learn solutions and new approaches for the planning community to help solve today's most pressing problems. This year's conference in Philadelphia featured UEP alums serving as moderators, speakers, and attendees. We asked them how the program prepared them to be practical visionaries in their field and provided advice to current and future UEPers about to begin their career as planners.
Savannah-Nicole Villalba is a UEP alumnus who participated as a Speaker in the Moving Equity, Diversity, and Inclusion Toward Action panel, which described how APA's Connecticut and Florida chapters created Equity, Diversity, and Inclusion programs, work plans, and activities.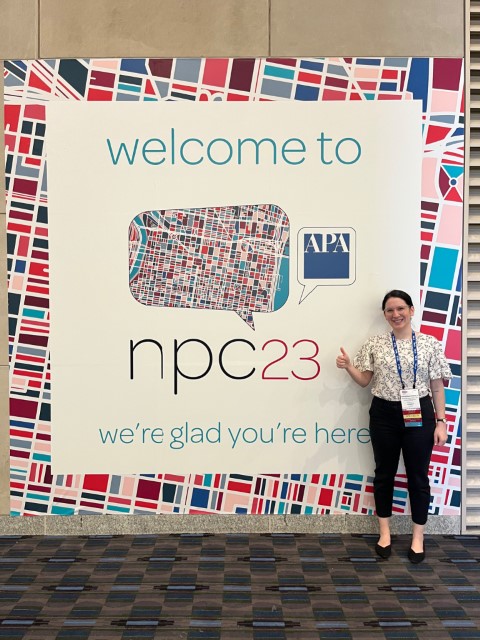 Name
Savannah-Nicole Villalba, AICP, AZT
Current Position
Senior Regional Planner for Housing and Integrated Development at the Naugatuck Valley Council of Governments (NVCOG)
Year of Graduation
2020
How did UEP prepare you for your current role as a practical visionary?
I took a lot of classes that assisted me in understanding how to implement housing, land use, and economic development policies. Jon Witten, Shomon Shamsuddin, Rosalind Greenstein, and Peg Barringer's classes were instrumental to my work as a housing and land use planner at a regional council of governments.
As a practical visionary, the practical part is: Can you implement the dream, goal, or vision that a community has identified as a priority? UEP's focus on social justice and human-centered planning processes has given me the skills necessary to assist in the implementation of a community's vision.
In addition, my time as a Tisch Summer Fellow at the Dudley Street Neighborhood Initiative gave me a concrete example of equitable community engagement and community agency. It was the first time I saw food and child care offered at public meetings. My time at DSNI and in the UEP classroom showed me that community-driven planning is possible.
Do you have any advice for present or future UEPers interested in your field?
My advice would be to try to take every opportunity that comes your way. I understand that it may be difficult based on your positionality and available resources: you may have another job, personal responsibilities, or involvement with community or professional extracurriculars that do not give you much free time outside of your academic responsibilities.
But if an opportunity presents itself, and you have the means, time, and capacity, take it. This is the opportunity in your life to open every door and turn over every rock. You never know which opportunity you take or which special connection you make that leads you down the path to your passion. The activities that I got involved with at UEP helped me get my first planning job as an Assistant Town Planner in the Town of Winchester, MA during my second year at UEP. I know it can be tiring, but the benefits and the fruits of that labor can be invaluable.
Anything else you want to add?
You are in a special planning program. I think many planning programs only focus on technical knowledge: they make planners who know how to read site plans, who can comprehensively plan, or do the other tasks they're asked to do. While UEP has these courses, and I recommend you take as many as you can (take Land Use Planning I and II with Jon, you will thank me later no matter what you do after UEP), UEP prioritizes a people-centered approach to planning that will ultimately make you a strong planner and set you apart.
Immerse yourself in the UEP community while you are there because the faculty and staff are incredible and truly embody what it means to be a practical visionary. The UEP community will help foster your ability to turn vision into practice.