Leila Bhatti Migliorelli is a prime example of the Practical Visionaries tagline for the UEP program. Leila is a 2009 MPP graduate who is parlaying her skills and experiences from Tufts as a graduate and in her current role as Director of Stewardship and Donor Relations, into a run for a position as Alderman-at-Large in the City of Melrose. In this Q&A, Leila details more about her background and how it influenced her platform and decision to run for public office.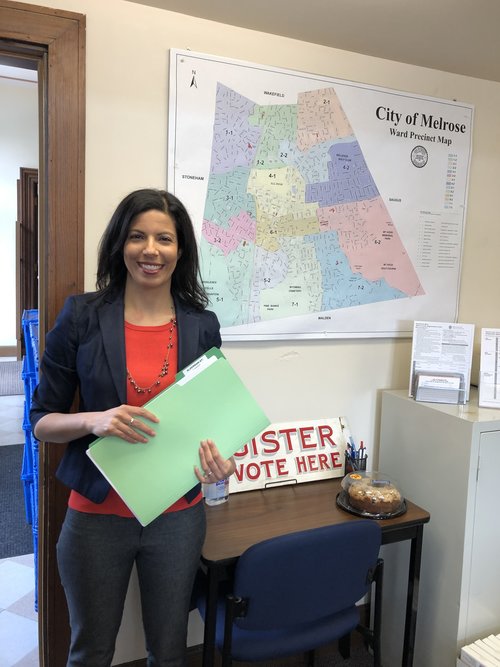 Give a brief description of your current position and job responsibilities
I currently work at Tufts University as the Director of Stewardship and Donor Relations. In my role as Director, I manage a team to establish programs and policies across Tufts to steward major donors and communicate to them about the impact of their investments. I regularly work with individuals from around the university — from administrators, facilities, legal counsel, and finance — to help ensure that donors' gifts are spent appropriately and how they intended. These same relationship-building skills and commitment to transparency are crucial for public officials, and what makes this opportunity to serve on the Board of Alderman an ideal fit for me.
What spurred you to run for elected office?
It has been a dream of mine to get into public service. I majored in political science at Providence College and got my Masters in Public Policy at Tufts in 2009. I love working for Tufts, and my experience here gave me a solid framework for how to succeed in public service. So when this opportunity arose to run for office in the City of Melrose, it seemed like a great opportunity to get involved in politics while continuing to work for the university.
I've been actively involved in the Melrose community, and was appointed by the Mayor to serve on the city's Human Rights Commission. There, I've had the opportunity to get involved in the city on a more intimate level, and can see the challenges and opportunities faced by a more diverse Melrose. There are people within the city who feel that may not have a voice, and I hope to give them that voice in the city.
Melrose is going through a generational transition. We just passed the first tax override in 27 years, which has galvanized the community to become more engaged in city government. I'm running for one of four seats as Alderman-at-Large (soon to be Councilor-at-Large once the State Legislature approves the title). There is only one incumbent seeking reelection for this position and many first-time candidates already on the ballot. Plus, we have the first competitive mayoral race in nearly 20 years, so it's definitely an exciting time in the city.
What do you see as the main issues facing Melrose that you are seeking to tackle? Are there any issues that you feel are relevant to not just Melrose but communities throughout the Greater Boston area?
Melrose is trying to maintain the balancing act of a city with small-town appeal – a beautiful main street, tree-lined streets, tight-knit community — with the demands of being so close to Boston (we have three commuter rail stops and walkable access to Orange line trains in our 5-square mile town). However, we are reliant on our residential tax base, as there is not a lot of commercial tax revenue to support our needs. We have significant infrastructure issues in the city — old schools, and public safety buildings that are literally falling apart. Hard decisions will have to be made, and I believe we must do so with an eye to the future and incorporate environmentally sustainable solutions in the process. Smart growth, affordable housing, and a well-planned business district are also top of mind in the city. I think these issues are faced by many communities within the Melrose area — and I believe the people of Melrose are eager for these issues to be tackled in a way that's inclusive and mindful of the shared values of the community.
How has what you learned at Tufts UEP prepared you for a run at elected office?
I was fortunate enough to have Professor Emeritus James Jennings as my MPP program advisor, and learned a tremendous amount from him about the value of community engagement in the process of governing and policy development. And that some of the best solutions to problems come from within the community, and not outside.
What advice do you have for current students? For alumni interested in pursuing public office?
I know that Tufts students are some of the best in the world, and in the 13 years of working here and the two spent in graduate school, I would say that I've learned more from them than I have to share! But if I had to give advice, I would say to stay open to new possibilities and to try to listen to your gut about when the right time is to take advantage of those opportunities. It's impossible to have it all at once, but if you surround yourself with people who you can trust and be there for you, anything is possible. That goes for running for office too — your team is important!
Leila is running for the position of Alderman-at-Large for the City of Melrose. The election will take place on November 5, 2019. For more info on Leila and her platform check out her website https://www.leilaformelrose.com/ .