Current Project Director of The Welcome Project and UEP alum, Warren Goldstein-Gelb, has created a new podcast called B-Change, highlighting emerging leaders in social change. We spoke with Warren to get the scoop.
Please give a brief description of the B-Change podcast. What motivated you to start the podcast?
I created B-Change to build a community of social justice leaders who develop new strategies and tools to strengthen their leadership skills. After graduating from Tufts UEP in 1999 and later earning a certificate in positive psychology in 2014, I thought there was a need and opportunity to combine the skills offered in both of these disciplines. I felt the positive psychology and UEP approaches were complementary, but that students in these programs lacked the opportunity to learn from each other. In Tufts UEP we were taught how to look at problems as part of larger systems — what is today referred to as "social determinants." In positive psychology, the focus tends to be on personal development.
Nonprofit leaders and policymakers can benefit from positive psychology tools and practices, which are about embracing people's strengths rather than focusing on weaknesses. Policymakers and nonprofit leaders can also benefit from positive psychology tools and techniques that help leaders persevere and renew themselves as they engage in physically and emotionally exhausting work.
Are there any particular issue areas that you would like to highlight with the podcast? Any people that you would like to feature?
The podcast rotates between sharing the stories and experiences of innovative social justice leaders and those who can share an expertise that would be of interest to emerging leaders. We have a particular focus on the stories and experiences of leaders of color because they are an important source of mentorship for emerging leaders. A key priority for us is to speak with people who represent a diversity of approaches to leadership and organizational structures.
In the first set of episodes, we have a strong UEP presence: We interview Penn Loh, a UEP faculty and former executive director of the Roxbury-based Alternative for Community and Environment (ACE). And an upcoming episode includes a former UEP visiting practitioner, Aaron Tanaka.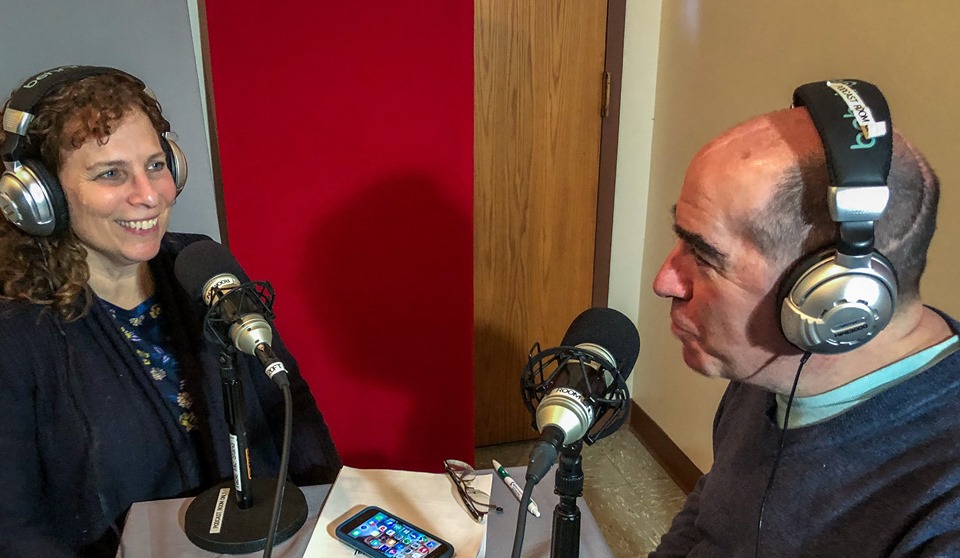 How have you applied concepts that you learned at Tufts UEP to this experience?
The motto of the department is "practical visionaries", a strong theme which runs throughout this podcast series. In my first semester, I took a required course by Rachel Bratt and Molly Mead called "Perspectives", where I read Debra Stone's book "Policy Paradox: The art of political decision-making", which introduced me to the idea of how the use of numbers could tell different stories. That book got me interested in story-telling. Dakota Butterfield's Organizational Management course was a huge inspiration for the possibility of creating democratic organizations. Furthermore, David O'Connor's classes on negotiation and mediation inspired me to explore approaches to organizing that were not confrontational
What challenges have you faced so far in trying to start up the podcast?
On September 12, 2015, after more than a year of planning and developing the B-Change podcast I experienced a stroke, that nearly killed me. But even after recovering, I wasn't in a position to pursue my dream of releasing the B-Change podcast on my own. Fortunately, my wife, Marcy, has joined me as a partner. And we've enlisted the involvement of the UEP community, including Penn Loh as well as a UEP student who introduced us to our producer, John Consilvio.
Do you have any advice that you would like to give to UEPers? Both current students as well as alumni?
Many of the lessons that our guests share on the podcasts would be particularly useful for UEP students and alum. Our guest Maria Elena Letona of Neighbor to Neighbor, for example, highlighted the importance of self-reflection to being able to persevere and grow in her long and well-established career. Penn Loh shared the lesson of being open to unexpected opportunities on his journey. We encourage UEP students to listen to the podcast and to share your questions and ideas on the B-Change Facebook page (facebook/bchangenet). We also invite you to email us at bchange.marcy@gmail.com with any suggestions of topics and guests you suggest we include on the show.
B-Change's Podcast Launch Party kicks off on Sunday, June 16, 2019 at Arts at the Armory in Somerville, MA. See this link for more information.